Filial therapy is a collaborative educational, positively focused skill learning model. The objective is to strengthen family attachments and relationships by training parents to use child-centered play skills and ways of responding. 
Therapy is focused on the parent-child relationship rather than on either parent or child as the focus of treatment. Training is a collaborative process with the therapist serving as parental mentor and coach. After training, parents begin conducting sessions, first under the therapist's supervision but eventually transitioning them to the home.  Once parents learn the essential skills, they can adapt and generalize what they've learned to a variety of situations. Filial therapy is appropriate for children between the ages of 3 and 12 years of age.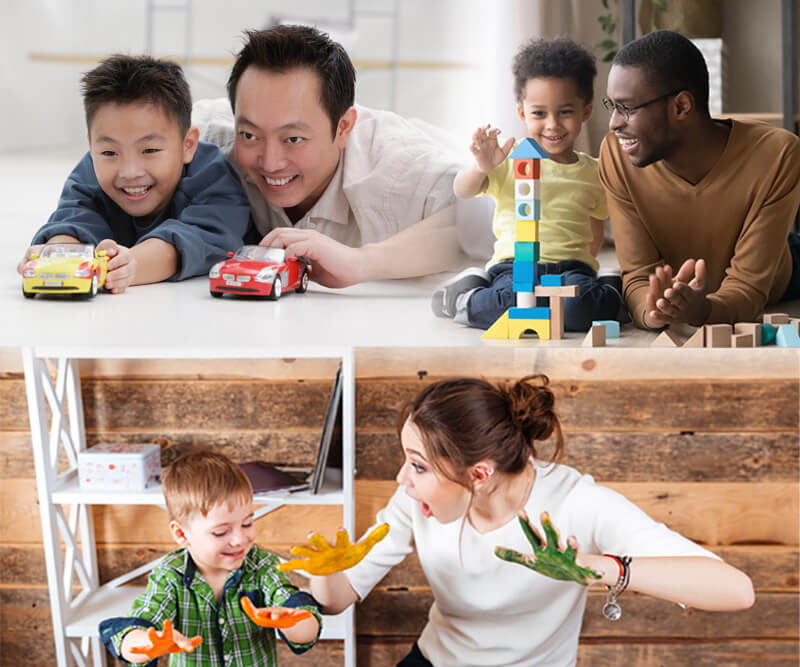 You can't enter any world for which you don't have the language.
— Ludwig Wittgenstein (philosopher)
It is said that play is a child's language, and this is certainly true.  As children grow, they develop language and gain an understanding of how to express themselves in words but this process takes time.  Language, after all, reflects our environment and we learn based upon what we see and hear.  Thus, it makes sense that the words we use and the way we express ourselves is based upon how we see the world.  However, children are still learning so play, which requires no language or words, allows them to communicate what they cannot easily put into words.

Benefits of Filial Therapy

In Filial therapy, parents learn and apply child-directed play therapy skills which can serve to:
Help them more fully understand their child's worries and feelings
Learn new ways of encouraging child and family co-operation
Increase positive attention and enjoyment in spending time together
Improve/increase listening skills
Develop more open communication with their children and other family members
Develop greater confidence in their own parenting skills.

Children also benefit by:
Learning to understand their own feelings better
Express feelings more appropriately
Become more able to talk about what they need or what's worrying them.
Positively change behavior
Results in increased self-esteem and self-confidence
Filial therapy is structured and systematic.  While typically it takes about 16-24 weeks, the process can be adapted depending upon the family's need for support.  It is taught in stages with the therapist serving as trainer, coach and eventually supervisor for the parent-conducted sessions.
Stage 1: Assessment and information gathering. Therapist introduces the program, reviews parent concerns, describes filial therapy methods, values and principles, and demonstrates the process.
Stage 2: Parent training.  Parents are taught the four specific child-directed play therapy skills of structuring, empathetic listening, limit setting and imaginary play through a process that includes roleplay, supportive coaching and strength-based feedback.  This is followed by having parents provide "special play time" sessions under the therapist's supervision. During the in-office sessions, parents also meet alone with therapist to talk about the session, identifying strengths, challenges, use of skills and the like.  As with the previous training sessions, feedback is focused positively to better support learning.
Stage 3: Special Play Time Goes Home.  When parents are ready, special play time is transferred home and parents continue to conduct sessions with their child on a regular basis. While it is recommended that special play time continue at home for at least 6 months, it is encouraged for as long as the child wants and needs it.   During this time, parents will continue to check in with the therapist, either in person or via Zoom to discuss the sessions. These sessions become less frequent and eventually conclude with a final parent-therapist check-in.
Filial therapy involves several stages. A therapist will generally first conduct an assessment of the family and will likely take some time to observe family interactions. Then, the therapist will demonstrate a play therapy session and train parents in basic techniques over the course of a few sessions. After that, the therapist provides direct supervision as parents conduct sessions with their children. The parent-led sessions typically begin in the clinical setting but eventually transition to the home. For the duration of the therapy, the therapist provides ongoing support and addresses any challenges families may encounter, thus preparing families for the completion of the therapy. This type of therapy does not focus on either parent or child as the person seeking treatment. Instead, the relationship between parent and child is the focus of the therapy.
Filial therapy is most often conducted in a group setting so parents can receive emotional support in addition to didactic training. In a group setting, parents also have the ability to experience a variety of parenting styles. Filial therapy has also been adapted for use with couples and individual parents and can be used to train teachers, mentors, and other caregivers.
The techniques in filial therapy are non-directive and child-centered, meaning children are free to play as they wish, without a lot of instruction or direction from the parents.
Structuring: Parents structure the play session by creating a specific play area and telling the child any of the toys provided in the space can be played with, in any way the child desires (with a few safety-based restrictions). Empathic listening: Parents can develop skills to reflect a child's behavior and emotions during play and use these skills to provide reflective commentary on what the child is doing and what the child may be feeling or experiencing. Child-centered imaginary play: The parent simply watches and follows as the child engages in imaginary play. Limit setting: Although rules are kept to a minimum, parents provide limits to ensure safety and respect for property. Some aggression is permitted, but parents intervene if the child attempts to destroy toys or engage in dangerous behavior.